ABC's and 123's!
When I was younger I went through a phase of wanting to be a teacher. I loved school and my grandmother was a teach so I though it would be the coolest job ever. Right about that time, this Barbie came out… so you KNOW I had to get it. 
I loved her little dress, but her red glasses were my favorite and the chalkboard really did work! I would always set up my school, have the kids do math and reading, then recess and naptime and then I'd get bored so school was over.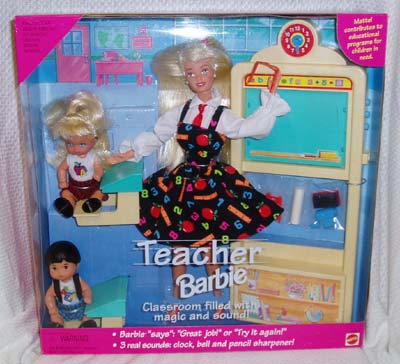 I don't really want to be a teacher anymore, unless it's college theatre or something, but it was definitely a fun Barbie! 
(By the way, does the blonde girl look like Hayden Panettiere to anyone else!?)